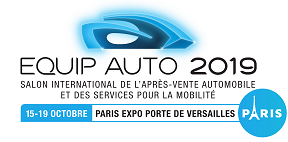 EQUIP AUTO 2019 International trade show for automotive aftersales and services for mobility
Together with its partners and on the invitation of EQUIP AUTO, the international association for the history of transport, traffic and mobility T²M is hosting an afternoon event to discuss and de-bate the points of convergence between scientific research and real life in industry. This plenary session is open to all, subject to seat availability. Do not hesitate to spread the word around your networks!
On this occasion, we will have the pleasure of welcoming several speakers to our high-level round tables, at which academic and industry personalities will be invited to share their experiences and engage in cross-fertilisation.
The afternoon's proceedings will be rounded off with an exceptional appearance and speech by Patrick Pelata.
This will be followed by a drinks reception.
Make a date for the afternoon of 17 October at Paris Expo, Porte de Versailles, at the heart of one of the world's leading tradeshows dedicated to vehicle equipment and aftersales.
Conference programme
3.00 PM : Welcome participants

4.00 PM : Conference opening by Philippe Baudin (President of EQUIP AUTO) and Christian Peugeot (President of CCFA)

4.30 PM – 5.30 PM : Roundtable 1 : « From Past to Future : Gouverning new mobility »

Chair : Arnaud Passalacqua (Doctor, Paris – Diderot University)

Jean Coldefy (Head of Mobilité 3.0 Program, ATEC ITS France)

Yves Crozet (Economist, Laboratoire Aménagement Economie Transport, CNRS)

Franck Cazenave (Smart Cities Director, Bosch Megacities Institute)

Pascal Tebibel (Director of Global Public Affairs and Strategic Foresight, Colas Group)

5.30 – 6.30 : Roundtable 2 : "From Past to Future : Marking, signage and connected vehicles".

Chair : Mathieu Flonneau (Doctor, Paris I Panthéon – Sorbonne University)

Marc Desportes (History Committee Ministry of Ecological and Solidarity Transition)

Delphine Duperray (ITS Customer Program manager, Continental)

Eric Baertich (SER / Head of sales and marketing, 3M)

6.30 PM : Keynote Patrick Pelata (Meta-strategy Consulting) « Automobiles and mobility : the revolution is underway »

7.15 PM : Closing speech by Claude Cham (FIEV President) and drink reception.
IMPORTANT NOTICE FOR REGRISTRATION
You must necessarily follow this link for preregistration. The organisers of Equip Auto Trade need to know the identity of the participants at this event for safety reason and to create personnal access badge to the trade.
It is necessary to register using below link : https://badge.equipauto.com/en/home.htm
Click on « Pass request », use the procedure and the invitationcode INVITT2M (Free invitation : there is nothing to pay).
(If you are already registered by using the Doodle poll, no reason for concern : you have successfully been registered !)