A french gourmet dinner at Le Train Bleu, Paris Gare de Lyon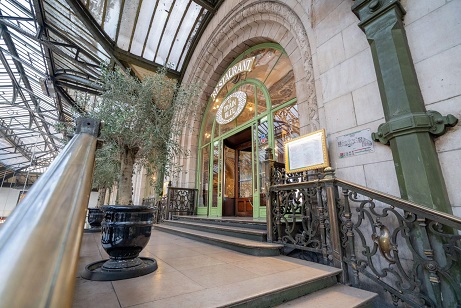 Conference official banquet
Friday 18th October, 7.30 pm - 10 pm
An iconic restaurant in Gare de Lyon, Le Train Bleu offers a majestic setting where the show takes place in the kitchen as well as the restaurant. Steeped in history, this establishment is filled with a distinctive and unique atmosphere where time and space fade away during an exceptional moment. (Website)
The T²M local committee offers for participants a reduced rate of 25 €, also apply for an accompanying person.
All registrations require you to pay the sum on the first day of the conference, when you register (goodies bag). A coupon will be given to you then. Payment will be made in cash: please have the precise amount.
To register, click on the following link to complete the survey : Registration
Add your name, tick the boxe in green "presence" for you and one more for the person accompagnying you.
If you have any special dietary requirements (allergies, vegetarians, etc.), tick also the boxe and send an email to t2mparis2019@sciencesconf.org to give details : we will try to take this into account as much as possible for this event and this conference.
Response waiting before 20th September 2019.